Note: It's been a long time since I've had time to write for this space. The pandemic hit hard, as I was just getting accustomed to handling four college courses (two were new). Once we went online, I had to say goodbye to my normal life and worked 60 hours a week just to stay on top of things. (My students had it worse, I'm sure!)
When that ended, a new writing project presented itself, and I have been focusing on that to the exclusion of pretty much everything else. I have not been able to see as many films as I would have liked during this time, but I did see a few oldies, including some Greta Garbo and John Gilbert films. Of course no one has been to the theater, but I'm looking forward to that, and to figuring out how to keep this site going while doing everything else. We'll see!
Niagara (1953) 
 This is a perfect film to see in the summer. I'd been aware of it for years, and you're reminded of it when you visit the Falls (which is a little over an hour away from where I live). It's a noir, a gorgeously shot Technicolor film, and a "Hitchcock lite" film that is still vastly entertaining on many levels. (Direction is by Henry Hathaway, director of the John Wayne True Grit, the classic The Lives of a Bengal Lancer, and several segments of How the West Was Won).
While not wanting to spoil anything, the plot involves a couple whose marriage is clearly in need of repair (Marilyn Monroe and Joseph Cotten) and one taking a delayed honeymoon (Jean Peter, who shines, and Max Showalter, who irritates). The story is intriguing and contains twist and turns that keep it constantly engaging. The cinematography by Joseph MacDonald (My Darling Clementine, Panic in the Streets, The Sand Pebbles, and The Young Lions) is rich in color and constantly reminds me of Robert Burks' work for many Hitchcock films, especially North by Northwest. It walks a tight line between beautiful imagery and the canted angles of the best noirs.
Joseph Cotten is glowering throughout, and only an adequate substitute for the preferred James Mason, who would have lent a darker and more layered menace to the character. He's solid but not more than that. The real standout in terms of acting is Jean Peters, better known then and now as Howard Hughes' girlfriend and wife. She is the one who holds the film together.
The main male parts aside from Cotten are embarrassing. Showalter (known mostly for his television work and for playing Horace Vandergelder in "Hello Dolly" more than 3000 times) as Peters' husband is always smiling. Always. Doofus is a word that comes to mind. His part is poorly written, and he never listens to his wife at the most important times(who curiously never really presses her points, which is also a problem). He's more concerned with his career path than his lovely and intelligent wife, and is far too dismissive of her—to an infuriating extent. Don Wilson as his corporate superior is just as ridiculous in his own way, and needs constant loving input from his wife to get a clue. She is played by Lurene Tuttle, who is a delight in every scene she is in. Between Cotten, Showalter, Wilson, and Richard Allan as Monroe's character's boyfriend) (spoiler alert) here is a case to be made that all the men in this film are different degrees of stupid and bad. Fortunately, the boatman is normal.
The setting is well used, both visually and in terms of plot. I had thought that this was a mystery that had a few background shots of the falls. Not so. The area figures prominently in the film, and is a major character.
As overwhelming as the Falls can sometimes be in the film, there is one force of nature that competes and nearly dominates—Marilyn Monroe in 1953 (also her year of How to Marry a Millionaire and Gentlemen Prefer Blondes). She is just on the cusp of her persona overtaking her acting here, and it makes for a fascinating tension. She does a decent acting job, and she works to stay in character. But it's clear already that Monroe was always going to be bigger than her parts, and bigger indeed than any film she would be in from then on. Her introduction is startling, especially for 1953. She's served up sexually (and almost shockingly so for the fifties) from the first moment, and that's who she is throughout the film. Her walk might be somewhat laughable now, but she still seems to make it work. (Apparently her long walk in the film away from the camera is the longest in film history.)  I don't think there is a film personality today that does what she did onscreen back then. In eye-popping Technicolor (where she thrived visually), she is the 1953 version of PG-13 when she stands still and inches toward an R when she moves. The setting is used as well as any well-known setting in Hollywood history, but in a head-to-head between the Falls and Monroe, I'm not sure who dominates.
I'd always thought of Niagara as second-rate, and mainly for a Monroe moving from actress to icon. The film, if you can put aside some of the frustrating and condescending male characters, is fun to watch, the story is perfect "noir in color," the camerawork is lush and yet darkly stylish, and the Falls do much more than provide a backdrop. Not quite a must-see, but close.
Les Girls (1957)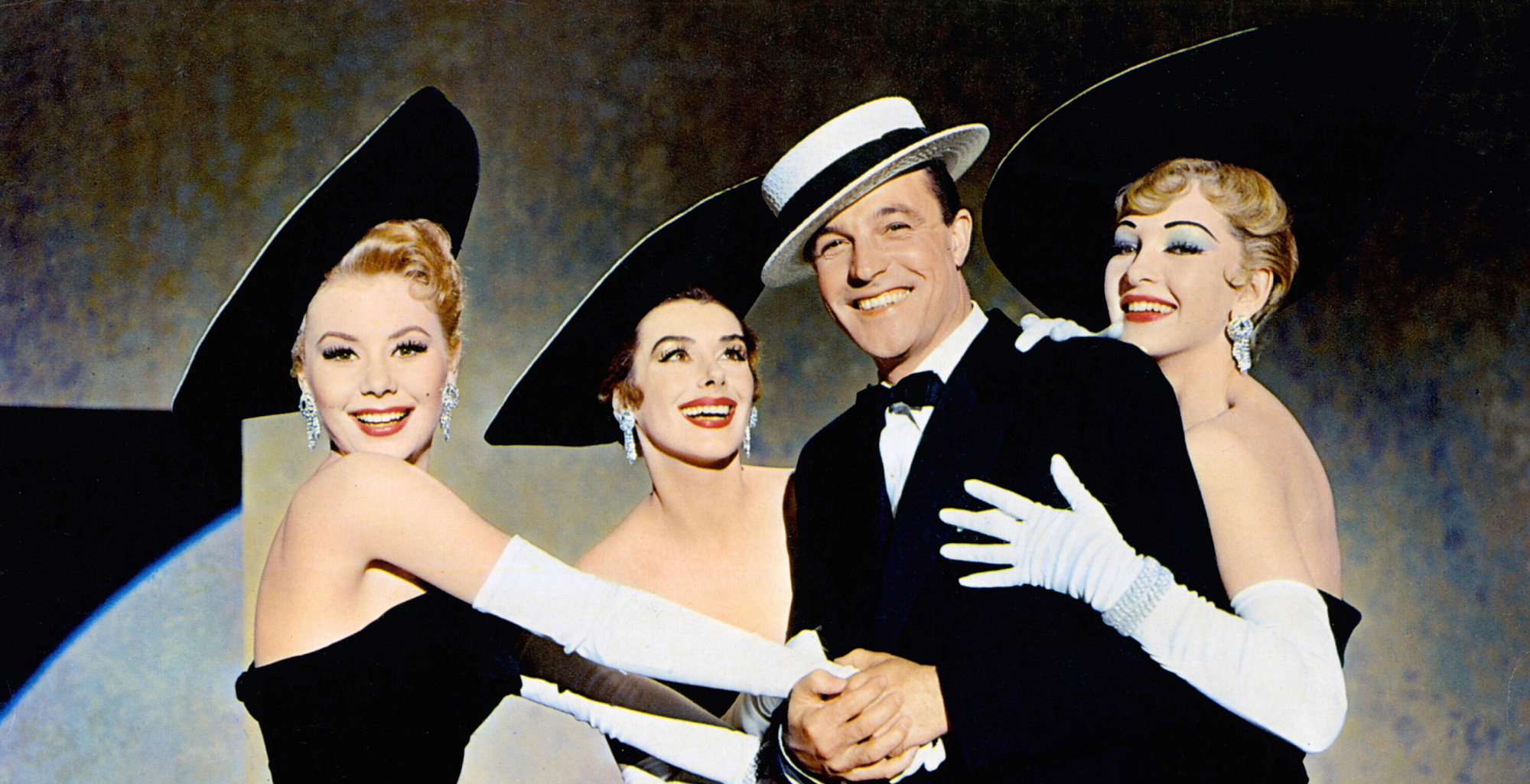 Les Girls (yes, a terrible title) is Rashomon: The Musical, only way lighter in tone. Like its Japanese predecessor, it presents several stories that don't add up, and the so-called "truth" is never arrived at. Other than that, it's a late term "golden period" MGM musical that stars Gene Kelly, but is directed by George Cukor, a smaller effort squeezed between gigantic films such as 1954's A Star is Born and 1964's My Fair Lady.
The story is piffle, but the dialogue is often very witty, as might be expected from a Cukor film. Everyone lies, but to what degree we don't know. The plot involves a series of testimonies from two of the three central women, none of whom are remembered today with the slight exception of Mitzi Gaynor, star of South Pacific. The stories don't jive, and the third person testifying doesn't exactly clear things up. The rest of the film is similar to the energy and bite of 1939's The Women (also Cukor) but with men.
Kelly plays the manager of a dance troupe with three female stars. Relationships crisscross and hijinks ensue. The "what is truth?" element is not the central notion in the film, though it is in terms of theme, and there is a sign carrier that is a little too on the nose (you'll see what I mean if you see the film). What is central to the film are not the musical numbers, which you might think when you think of Kelly. It's the three women, their relationships with one another, their romantic endeavors, and the situations they create and find themselves in.
The performances by Kay Kendall and Taina Elg (center and right, above as two of the female leads were Golden Globe winners (yes, both winning Best Actress — Comedy or Musical), and Kendall is delightfully over-the-top. Kendall's death just two years later at 32 is a loss not only for her husband Rex Harrison, but for film.
But from a film history perspective, I found Kelly and Gaynor to be of more interest. Kelly, of course, is the main performer in the numbers, and vocally he is much stronger than he was just two years earlier in It's Always Fair Weather. But not only did he not direct the film, which lacks the particular Kelly drive and energy, he also didn't choreograph the dance numbers. Watching Kelly do more "modern" numbers under the command of choreographer Jack Cole was intriguing, as Kelly was rarely a "hired hand." This makes Kelly less of a presence in the film, but his acting and dancing are of a piece with the rest of the film, and what he does fits in nicely. (It was his last film under his MGM contract.) You can see age creeping up ever so slowly on him, but this time it fits with his character, and he doesn't have the age gap often seen in some of his other films (An American in Paris, Singin' in the Rain)
Mitzi Gaynor is something of an enigma. She is lovely, a good singer, a decent actress, and a very good dancer. But the final effect is less than the sum its parts. She's just a little too contained, too deliberate to really let go. She's pretty and a little cute, but not as pretty as Grace Kelly or as cute as Debbie Reynolds. She does everything she is supposed to with style, but she is not distinctive in any way, like a Leslie Caron, or a Cyd Charisse, or even Vera Ellen. Her duet with Kelly is fine, but lacks the energy and/or fire of his work with any of those three dancers. It doesn't help that the songs are second-rate Cole Porter (his last film score before his death).
Still, under Cukor's hand, all the elements that might have flown in separate directions manage to come together. The film is not in the league of the great MGM musicals, but is delightful and solid. Again, not a just-see, but probably a will-enjoy.